About
360 Realtors , as the name suggests, is a company which provides 360-degree solution to all your realty investments. We are the largest real estate consulting company in India with envision to succeed on the principles of commitment, honesty and reliability. Driven by the same mission we thrive to get the best possible opportunity for both our investors who use Real estate Assets to increase their wealth as well as home seekers planning to make the biggest decision of their lives. Transparency in transactions and uniformity in contracts are our second names We have a forte in real estate advisory that believes every buying experience should be a simple and successful accomplishment from a DREAM to REALITY. The driving force behind it is our team of Real Estate Advisors who have a zest for fundamental values of customer satisfaction, credibility and professionalism.

360 Realtors is destined to have some of the finest professionals in real estate industry who have a niche in exploring property just as per your requirement. We at 360 Realtors meticulously mentor our staff not only to find you a property but also use Real Estate as a tool to add to your assets. There is no denying the fact that buying a property in India is a cumbersome process as consumers require real time advice, property comparison, property tours, deal closure, legal and home loan assistance to make this major decision of their lives. Keeping this in view and to serve you well on each aspect, our diligent team of experts at 360 Realtors spends countless man hours evaluating each and every project. The end product is that you are unchained from the hassles which an individual has to go through for investing in real estate. In addition to our personal service, 360 Realtors offers comprehensive information of real estate opportunities available in NCR and helps in securing loan at genuine interest rates. A clarion call to come and let us help you take the right decision on the real estate investment you make with our knowledgeable and market savvy consultants and make your DREAMS COME TO REALITY.


Operating Since: 2011


Dealing in:

Sale/Purchase of Apartments / Flats, Independent Houses, Residential Plots / Lands
Areas of Operation
Properties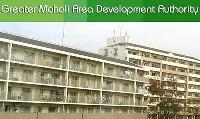 1038 SqFeet

Apartment @ Rs.3748/SqFeet
ID: P2947116 — Posted: by Deepak Rana Rajput
Airport near flate 2bhk highway Road Aero City (GMADA Aerocity)
Lovely Star homes Silent Features: •Gated Society • Project located beside Delhi-Ambala-Manali Highway • Spacious 2 BHK Apartments we are providing are independent floors with suitable parking facilities. Apartments are Fully-furnished, which include, Double Beds With Matching ... more details
Expert Reviews By 360 Realtors
Medavakkam is a residential locality in the south of Chennai Metropolitan city which is adjacent to the neighbourhood of Sholinganallur, Madipakkam, Selaiyur, Keelkattalai, Velachery and Tambaram and it is center place to the developing suburbs like Ponmar, Ottiyambakkam and Sithalapakkam. Medavakkam is administered by Village Panchayat, which comes under the Shollinganallur MLA Constituency and South Chennai MP Constituency. This location is a fast developing residential locality due to its close proximity to the IT corridor OMR (approx 4 km from Sholinganallur) and SEZ in Medavakkam Sholinganallur Road.
Some of the areas in Medavakkam are Annai Indira Nagar, Babu Nagar, Somu Nagar, Munusamy Nagar, Vimala Nagar, VGP Pushpa Nagar, Aishwarya Gardens, Aishwarya Garden Extn, Soumya Nagar, Jayachandran nagar, Green Court(Jalladianpet), BHEL Nagar, Sairam Nagar, Gayathri Nagar, Veerabadra Nagar, Senthamizh Nagar, Sivagami Nagar, Royal Garden, RG Nagar(Royal Garden Nagar), Iyappa Nagar, Vadakkupattu. The major roads linking Medavakkam junction are Velachery Tambaram Road, Medavakkam Mambakkam Main Road and Medavakkam Sholinganallur Road.
Many prime areas on GST road - Chrompet, Pallavaram, St.Thomas Mount can be easily accessed from this junction.
Pros:
Affordable price
Good Water source
Best place to buy property at best price, bigger gated community in cdma limit.
handing over on time in phase 2,
Pros:
price
location
past mistake cleared
Cons: